PAIR Silver Candlesticks & Etched Glass Hurricane Chimney VINTAGE exc cond NICE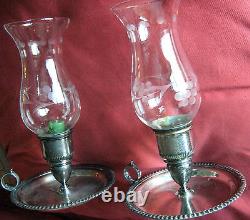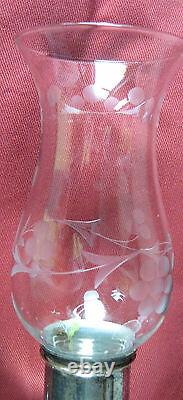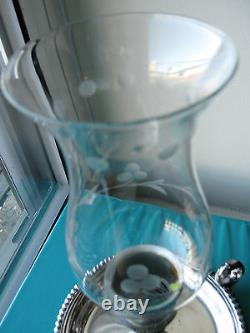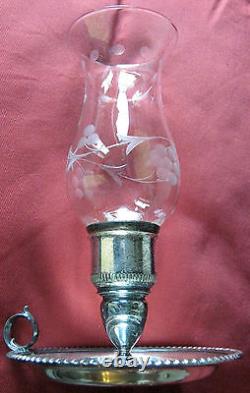 This item is one price for a PAIR of silver candlesticks with hurricane chimney etched glass inserts as pictured. My other pictures try to get closer and more detail with just one to illustrate better but both are the same.
First, as shown in my pictures, these candlesticks have a silver base and finger holder to the side in the style of old candlesticks; and they have glass inserts that I think are called chimneys and the style what might be called hurricane lamp form. The glass chimneys are delicate and have metal around the bottom where they fit into the base. They have a kind of simple floral pattern that I assume is etched or something, that is, slightly recessed and translucent rather than transparent. Nothing has any damage -- while very delicate, the hurricane chimneys are not cracked, chipped, scratched or damaged in any way and I have to believe they are completely original because they fit properly and nothing whatsoever suggests any disparity between silver bases and chimneys.
As to the silver bases, there is on the underside of one of them what I THINK is a sterling silver hallmark -- I don't know what it is or what it means and have been unable to get a good photo of it so I will describe it and perhaps some reader here will volunteer an identification. In any event, it is a three-part leaf-like pattern, perhaps like a fleur-de-lils (or clover -- one element to the left, one to the right and one sticking up) with a tiny kind of shield or something in the center below that and perhaps an initial on it, then a banner or banners sticking out to the left and the right of the "shield". I can find no other identification but gather that three-part marks like this typically indicate sterling silver rather than silver plate.
The bases are somewhat tarnished and I have not tried to polish them; one of them must have been polished at some point, however, in that it is definitely less tarnished than the other. Since I came into possession of them about 20 years ago, I've just kept them in storage and it looks like the less tarnished one has a strip of paper intended to prevent corrosion that was in the plastic wrapping where it were kept. As to age, I don't have any real idea -- I think they were in the previous owner's family for some time but whether they are 50 years old -- I think certainly that -- or 75 or 100 (perhaps my best guess) --- I simply cannot say. SIZE, finally, is around 6 inches in diameter for the silver bases and 10 inches total height from bottom of the base to top of the glass inserts. All in all, these are VERY FINE items and I don't think in a lot of looking at candlesticks and silver over many years that I've seen anything quite the same nor have I seen very much that appeals so much aesthetically -- just a nice combindation of delicate and historically interesting glass hurricane style and old-fashioned candlestick, all in a pair with no flaws, damage or other drawbacks I can see.
This item is in the category "Antiques\Silver\Sterling Silver (. The seller is "wclv" and is located in this country: US. This item can be shipped worldwide.