PAIR Vintage Antique Ampco #324 Art Deco Cast Metal Sconces 1930's New Wiring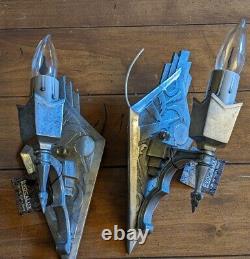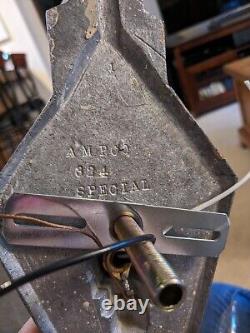 Cast metal is original finish. There was no need to refinish the metal since it was in great original condition.
Lightning bolts, palm trees, and a moon give this pair an unusual 1990's Miami beach style, but they were designed and produced sometime in the 1920's to 1930's. Professionally rewired with new sockets and antique-style grey candle covers. Undetermined metal mix that seems to be mostly aluminum, and doesn't seem to have oxidized over time.
No switch on the fixtures, so a wall switch setup is recommended. Fixtures originally included sockets with a string pull switch (not a standard chain pull switch). They were broken when we found them. The string switch was likely original, but not practical and would have easily broken again with use. They were professionally replaced with switch-less sockets to most closely maintain original condition, but so be useable.