A Beautiful Pair of Vintage Goldfeder Silverplated Candelabra / Candlesticks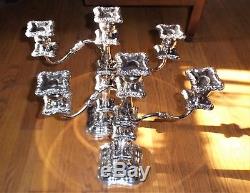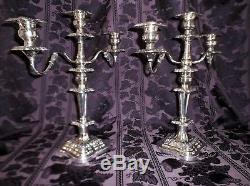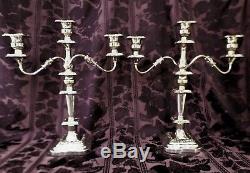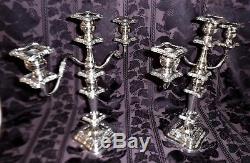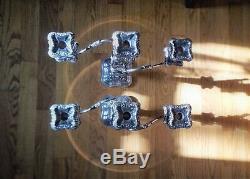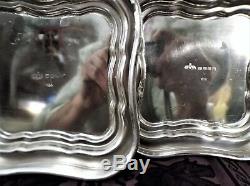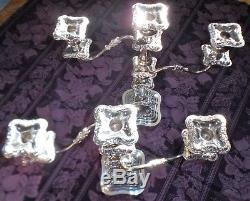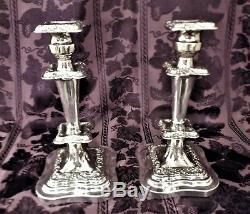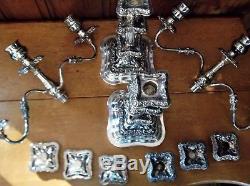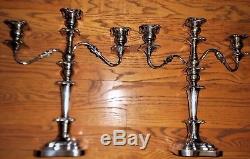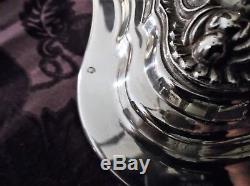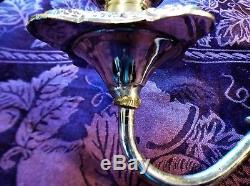 This beautiful pair of baroque style candelabras have been in my family for decades. They were crafted by the (Sol) Goldfeder Silverware Co. Of Yalesville, Connecticut which began operations in 1932 and was succeeded by the Birmingham Silver Co. Goldfeder might have stopped production in 1947...
I have seen conflicting information. "There" for the last three if not four decades has been carefully wrapped in cloth and stored inside a dresser drawer in a now unused bedroom. One upside to their prolonged storage is the fact that these have not had the silverplate worn away by repeated polishing. Description: These are substantial candelabras.
The silverplating was not skimped on. I have seen other listings that say that the base metal used under the silver was copper. I do not know although that would make sense and help explain their heft. They measure 18-1/2" in height, approximately 16-1/4" in width (of outstretched arms), and the bases are 6 square. Each weighs 6-3/4 pounds; a light bump will not tip these over!
Each candelabra has two curved arms and can accommodate three candles. The top sections with the arms can be removed leaving two beautiful candlesticks that are 11-3/4 in height. The top sections can also be swiveled 360 degrees if desired; the post and cup method of attachment is snug but allows for free movement. The arms each have a foliate design in their mid-section.
There are three removable bobeches or sconces on each candelabra that 3/4 diameter candles are fit into. All six bobeches are 2-7/8 square and are decorated in a floral and foliate design in relief around each of the four edges.
They serve to catch any dipping wax as well as facilitate the removal of a burning candle. The bobeches fit into (again with a movable post and cup method) the six rounded capitals that are atop the arm segments.
If desired they could be left off which would allow a larger 1 diameter candle to be fit directly into the capitals. In that case there is also a drip pan designed like the bobeches below the capitals to catch any wax. Below the upper arm segments are rounded and tapered columns w three square accents that duplicate the upper bobeches and drip pans.
At the bottom is a. Scalloped three tiered base atop which is again a floral and foliate embossed design around the edges.
On the underside of each candelabra is the stamped hallmark of Goldfeder Silverware Co. Which is a crown and the letters "SGEP". Please note that the lower half of one stamping did not strike so it is not visible although the top half is.
I tried to show that. Is also stamped on each underside. Condition: I believe these candelabra are in very good condition. The silverplating is smooth and complete. The silverplating has not been worn / polished thru in many places which is not uncommon in pieces of this vintage.
I did polish the lower three tiers of a base and the longer middle column section on one candelabra in order to reassure myself that the surface discolorations that I noticed were only tarnish. Then, having polished one in the two sections I mentioned, I decided I had to do the other candelabra to match so I did. When you look at the photos please keep in mind that you are viewing ones that are only partially polished. I admit that it took a fair amount of rubbing to polish those sections but that might have most to do with the age of the remnant silver polish I found. I would say that these were in excellent shape if not for two things: First there is a small 1/16 spot on the upper surface of the lowest tier of the base of one candelabra.
I do not know what caused it but it will not polish out. And second, there was a repair that was made at some time under one arm's drip pan.
That is the only area where the base metal shows thru the plating... If you look for it you will find it. However, I worked on these candelabras and this posting for a number of hours and it was not until I measured them a little while ago that I noticed the repair at all. Please see the photos for a view of each of those flaws.
A brief note about the photos. I really needed a spacious sunny room and cooperating weather to photograph these beautiful candelabras. The photos were difficult to take. I hope they provide you with a very good idea of the quality of these pieces. S as well as your zip code. Only then will I be able to send you a precise invoice with an accurate total amount due. That will be reflected on the invoice. Contacting me prior to paying will allow us to arrange the best path. Thank you for reading this and I hope you will enjoy these. The item "A Beautiful Pair of Vintage Goldfeder Silverplated Candelabra / Candlesticks" is in sale since Sunday, January 13, 2019. This item is in the category "Antiques\Silver\Silverplate\Candlesticks & Candelabra".
The seller is "damascastwist" and is located in Lake Geneva, Wisconsin. This item can be shipped worldwide.
Composition: Silverplate
Brand: Goldfeder
Age: 1932-1947 / 1957
Style: Baroque-like
Type: Candlesticks & Candelabras