Gorgeous Old Vtg Antique Pair Of Sterling Silver Middle Eastern Tribal Bangles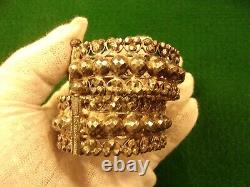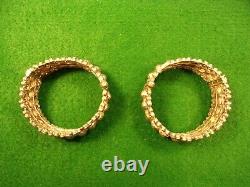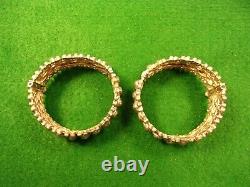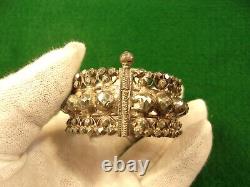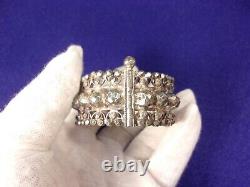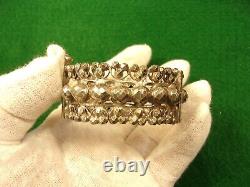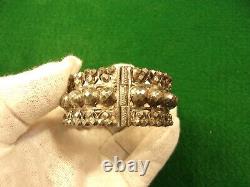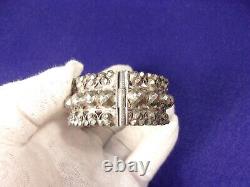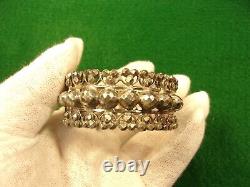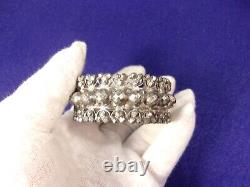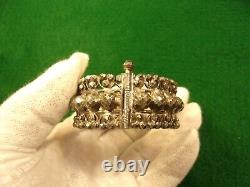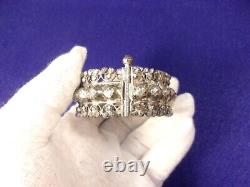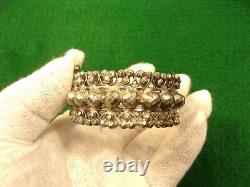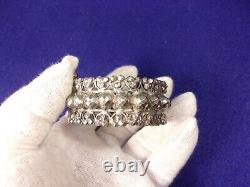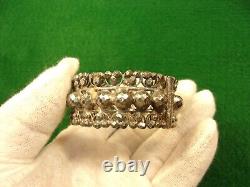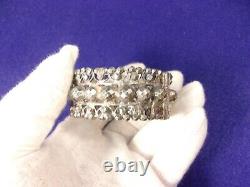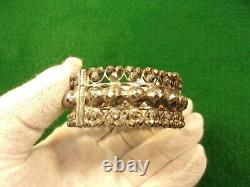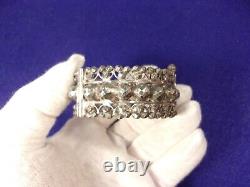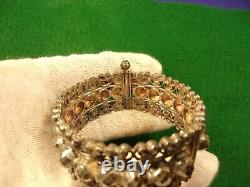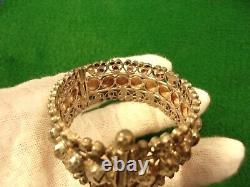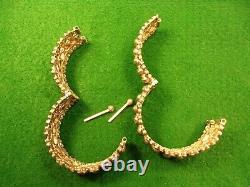 ALL KINDS OF SMALLS AND LARGER ANTIQUES AND VINTAGE ITEMS. I HAVE SOME MORE GOLD AND SILVER TO LIST NOW. MOST ARE MARKED AS STERLING OR GOLD AND HAVE TESTED AS SUCH. ALSO, MOST OF THE SILVER HAS AT LEAST SOME TARNISH OR PATINA ON IT.
I WILL LEAVE THE POLISHING TO THE TASTES OF THE NEW OWNER. ALL OF THESE ARE F ROM NON-SMOKING SOURCES , UNLESS STATED OTHERWISE. Gold - "Nugget" Style Jewelry. Gold & Silver - Black Hills+++. Jewelry - All Turtles & Frogs. Jewelry - Fine Lapel Pins. Jewelry - Club Membership Pins. Jewelry - Fine Stick Pins.
Jewelry - Fine Bar Brooches. Jewelry - Fine Rings, Incl Toe. Jewelry - Rings (& Lots). Jewelry - Wedding Rings, Bands. Jewelry - Fine Tie +Hair Clips.
Jewelry - Fine Tie Tacks. Jewelry - "All" Collar Studs. Jewelry - Tie Clips & Tacks. Jewelry - Earrings (& Lots). Jewelry - Bracelets (& Lots). Jewelry - All "Puffy" Bangles. Jewelry - Fine Cuff Bracelets. Gold - Victorian & Edwardian. Gold - Art Deco & Art Nouveau. Collectibles - Art Deco Period.
Jewelry - Gold Filled & RGP. Jewelry - Fine & Costume Asian.
Collectibles - Enamels & Sim's. Jewelry - Rhinestone - Vtg/Ant. Jewelry - All Costume Cameos. Pens - Antique/Vtg Inks, Wells.
Watches - Bands - Antique/Vtg. Watches - Chains - Antique/Vtg.
Watches - NOS Parts - Vintage. Watches - Pocket - Antique/Vtg. Collectibles - Tins & Similars. THESE INCLUDE (BUT ARE NOT LIMITED TO): SOLID GOLD JEWELRY; GOLD FILLED JEWELRY AND OTHER VICTORIAN AND ART DECO GOLD FILLED ITEMS; STERLING SILVER JEWELRY (& MORE); LOTS OF ANTIQUE "SMALLS" (THINGS THAT FIT IN THE PALM OF YOUR HAND); AND MORE!
, SO PLEASE CHECK THEM ALL OUT AS I LIST THEM THIS WEEK. HERE IS A STUNNING PAIR OF VINTAGE-TO-ANTIQUE LADY'S STERLING SILVER HANDMADE MIDDLE EASTERN STYLE FACETED HINGED BANGLE BRACELETS.
THEY ARE NOT MARKED or SIGNED, BUT HAVE BEEN VERY CAREFULLY ACID TESTED AND ARE GUARANTEED TO BE SOLID STERLING SILVER. 7 5/8 IN CIRCUMFERENCE EQUAL TO APPROX. 7" LONG x 1" WIDE (THE PUSH RODS ARE WIDER THAN THIS) x 1/4 THICK (MAX). THEY ARE IN VERY GOOD (to EXCELLENT) CONDITION , SHOWING VERY MINOR WEAR OVERALL (BUT THEY DO HAVE A DARKER TARNISH). THE TOTAL WEIGHT OF THE LOT IS 135.0 GRAMS.
BY THE WAY, I'VE BEEN TOLD THAT SOME OF MY LISTED STERLING SILVER JEWELRY (PARTICULARILY WITH DARK PATINAS) CAN SOMETIMES LOOK LIKE IT'S YELLOW GOLD TONED (REFLECTING THE LIGHT SOURCES I HAVE IN MY OFFICE). I DON'T SEE THIS, BUT YOU MIGHT, SO I DID WANT TO POINT IT OUT. I WILL GIVE MY BEST EFFORT TO GIVE YOU MY "BEST GUESS" ON THESE TYPES OF THINGS, GIVEN MY OWN PERSONAL EXPERIENCES, BUT THEY ARE NOT GUARANTEES, AT ALL. BUT, IF THERE ARE GEMSTONES IN THIS PARTICULAR LISTING, THEY HAVE BEEN ELECTRONICALLY TESTED, AND ARE GUARANTEED TO BE AS LISTED. THE PICTURES ARE TO BE CONSIDERED AS PART OF THE DESCRIPTION. PLEASE REVIEW THEM FOR A BETTER IDEA OF VARIETY AND CONDITION, AND I WOULD BE HAPPY TO ANSWER ANY QUESTIONS YOU MIGHT HAVE.