Michael Aram Vintage Post Modern Steel Tower Vases & Frames (pair) 2 Fabulous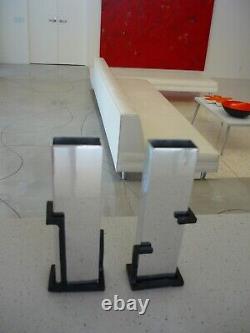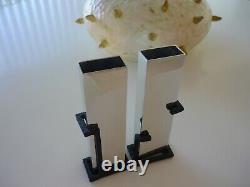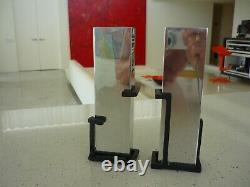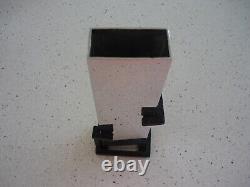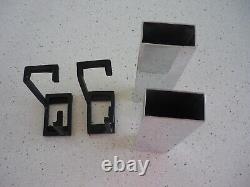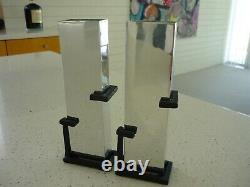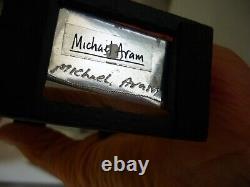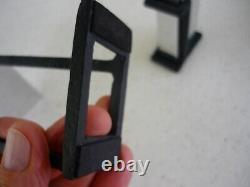 MICHAEL ARAM VINTAGE POST MODERN - MIDCENTURY MODERN. THESE VASES ARE OVER THE TOP AND CAN BE USED FOR MANY MORE THINGS THAN JUST FLOWERS. TRY CANDLES, BREAD STICKS, CHOP STICKS, EVEN A NAPKIN CAN BE ROLLED WITH SILVERWARE & PLACED INSIDE FOR A SPECIAL DINNER PRESENTATION. CAN BE USED WITH OR WITHOUT HOLDERS.
COAST PLAZA, COSTA MESA, CALIFORNIA. THE REAL THING IS, THESE ARE BEAUTIFUL EVEN ALONE.... THE MATERIALS AND FINE CONSTRUCTION SCREAM "LUXE". USED ONLY ONCE & IN PERFECT CONDITION. The black iron frame has small rubber cushioning strips to prevent scratches.
5" x 1.5" x 14.25 HEAVY. 6" x 2.5" x 8. SALE IS FOR 2 VASES - NO BOX. HAPPY EBAYING FROM SUNNY PALM SPRINGS, CALIFORNIA!